La Bibliothèque Virtuelle
Welcome to Pantheatre's Virtual Library. In the accompanying image you can see part of the real, old-stones Library, installed with permission from the Meyrueis family, in the funerary chapel of Chateau de Malerargues. Their ancestors, we are told, approved of this transformation. A dowser-medium came to check with them.
It is divided into four quarters: Mythology, Voice, Art and Shamanism, plus a Media section. Some years back, friend and colleague Nate Speare did a detailed data-base which we will make available.
The Chapel Library is dedicated to James Hillman, who was honorary president of Pantheatre and of the Myth and Theatre Festival. In the very early days when I first wrote to him to tell him how important his writings were for artists, he replied he would come and visit, and sent me quite a few boxes full of Spring Publication books. I had found my cultural family!    E.P.
Bienvenus à la Bibliothèque Virtuelle de Panthéâtre. L'image que vous voyez inclut une partie de celle en vrai, installée dans la chapelle funéraire du Château de Malérargues, avec la permission de la famille Meyrueis. Leurs ancêtres ont approuvé, de cette transformation. Un sourcier-medium est venu les consulter.
Elle est divisée en quatre sections : Mythologie, Voix, Art et Chamanisme, et une section Médias. Il y a quelques années, notre ami et collaborateur Nate Speare a réalisé une base de données détaillée que nous mettrons à disposition.
La Bibliothèque Chapelle est dédiée à James Hillman, qui fut président honoraire de Panthéâtre et du Festival Mythe et Théâtre. Au tout début, lorsque je lui ai écrit pour lui dire combien ses écrits étaient importants pour les artistes, il m'a répondu qu'il viendrait nous rendre visite et m'a envoyé plusieurs cartons remplis de livres de Spring Publications. J'avais trouvé ma famille culturelle !    E.P.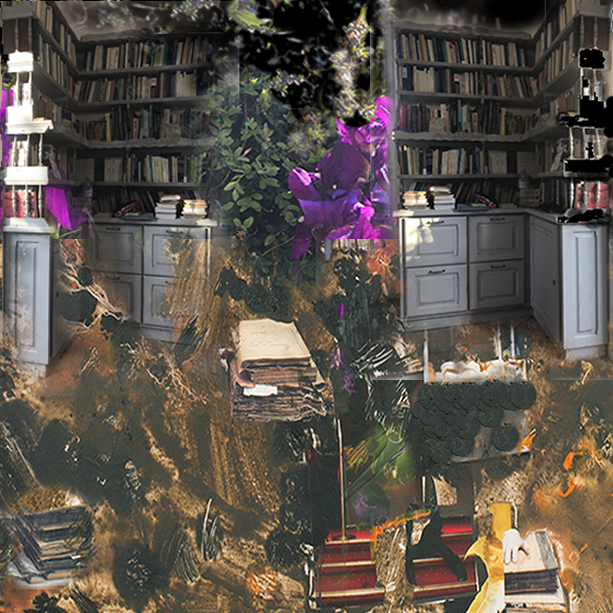 Section in the making / Section en cours de mise à jour

CURRENT LIVE Events :
SUPERSTITION — a performance take, Myth and Theatre Festival Opening Talk
Tuesday June 22, 19h Paris. Passcode : OpenMT21
Recording now added to the VL Showcase
LABORATORY & ORATORY : A. Artaud and The Double #1 with Enrique Pardo and Sonu Shamdasani
Friday June 25, 19 Paris. Passcode : Meeting ID: 873 8687 7387 | Passcode: MTevenings
FESTIVAL CLOSING TALK
Sunday July 4, 19h Paris. Passcode : Meeting ID: 873 8687 7387 | Passcode: MTevenings
Virtual Library LIVE Event Links :
SUPERSTITION — Myth and Theatre Festival
Opening Talk June 22,  19h Paris Passcode : OpenMT21
 LABORATORY & ORATORY : A. Artaud and The Double #1 with Enrique Pardo and Sonu Shamdasani
Friday June