First 2 TALKS of 2022
2 premières CONFÉRENCES de 2022
Le but de ces deux conférences est de relativiser (en mieux) la mythologie. Luc Brisson m'a dit un jour : les philosophes ne travaillent pas assez la mythologie (parole du plus grand philologue d'aujourd'hui!) Il faisait référence aux fondement des idées dans les mythes. Pour nous, ce plaisir-là, est bien trop important. Muthos, c'est la voix et l'intelligence de la fiction : notre boulot, notre tâche !  EP
The purpose of these two talks is to put mythology into perspective (for the better). Luc Brisson once told me: philosophers don't work enough on mythology (this, from today's greatest philologist!) He was referring directly to the foundations of ideas in myth. For us, this imaginative pleasure is far too important. Muthos is the voice and the intelligence of fiction: our job, our task!  EP
Sunday, January 16, 2022
Dimanche 16 Janvier, 2022
19h Paris  –  1pm New York
Conférence / Talk  Enrique Pardo
The Golden Ass and
the Apparition of Psyche
L'Âne d'Or et
l'Apparition de Psyché
AVANT PROPOS
militant et ouvertement vulgarisateur.
La figure de Psyché n'apparaît que vers la fin du 2e siècle après Jésus Christ dans un roman d'Apulée intitulé : Les Métamorphoses. Premier roman ou dernier mythe? Pourquoi pas les deux? En tout cas, bien tard.
C'est Saint Augustin qui, deux siècles après, l'appellera L'Âne d'Or – quolibet se voulant méchant, mais qui ajouta à la popularité d'Apulée. Tous deux natifs d'Algérie, haut lieu culturel. Marc Aurèle est empereur et l'Empire Romain (encore païen) se porte très bien. Le roman, lui, se passe en Thessalie, haut lieu de la sorcellerie, à l'autre bout de l'Empire.
Psyché n'avait pas été personnifiée avant Apulée – opération fondamentale de toute 'mythologisation ' : c'est son entrée en fiction, en commérage et figuration mythique.
L'époque foisonnait de romans (comme la nôtre de films). J'ai un gros bouquin dans ma bibliothèque avec les sept romans qui ont survécu ; bien peu pour cinq siècles de créativité. C'est comme si dans 1800 ans il ne restait que sept films de notre époque
Par cette charla (tchatche – d'où charlatan), Je veux fouiner un peu dans notre thème 2022: La Tâche de Psyché, et rendre visite à Apulée et aux tâches (tiens, double-sens!) qu'Aphrodite impose à Psyché.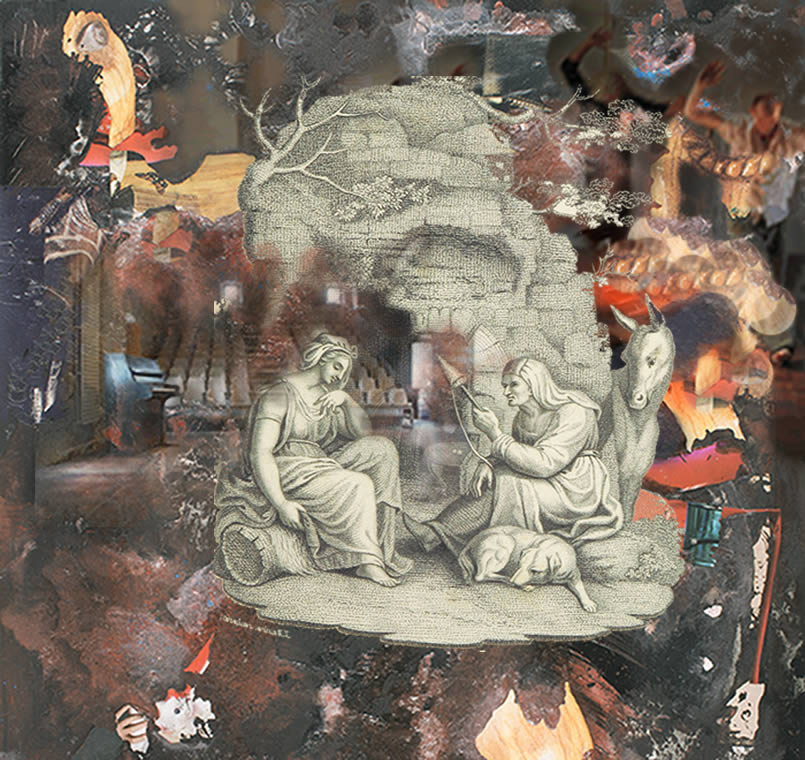 FOREWORD
openly militant and vulgarizing.
The figure of Psyche only appears towards the end of the 2nd century AD in a novel by Apuleius entitled: The Metamorphoses. First novel or last myth? Why not both? In any case, very late.
It is Saint Augustine who, two centuries later, will call it The Golden Ass – a malicious jibe, but which added to its popularity. Both were born in Algeria, a cultural Mecca. Marcus Aurelius is emperor and the Roman Empire (still pagan) is doing well. The novel, on the other hand, takes place in Thessaly, a hotbed of witchcraft, at the other end of the Empire.
Psyche had not been personified before Apuleius – the fundamental operation of any 'mythologization': her entry into fiction, into gossip and mythical figuration.
The time was full of novels (as ours is full of films). I have a big book in my library with the seven novels that have survived; very few for five centuries of creativity! It's as if in 1800 years there were only seven films left from our time.
With this charla (chat – hence charlatan), I want to poke around In our 2022 theme: Psyche's Task, visit Apuleius and the tasks he says that Aphrodite imposed on her.
Sunday, January 23, 2022
Dimanche 23 Janvier, 2022
English & Français
19h Paris  –  1pm New York
Conférence / Talk  Enrique Pardo
DIONYSOS
Réflexions sur un Dieu Non-Homérique
Dionysos, tout comme Psyché, fait son apparition relativement tard dans les récits grecs. Par contre, son entrée est fracassante, dans Les Bacchantes d'Euripide, en 405 av. J.-C. Cette longue absence s'est avérée être une discrimination de classe, « homérique » en ce sens. Dionysos n'était pas un immigrant oriental et décadent : son nom figurait déjà dans le berceau de la Grèce archaïque, la Crète de Minos. En 1968 j'ai connu Roy Hart en tant que Dionysos. J'ai vu (halluciné?) son théâtre dans La Naissance de la Tragédie de Nietzsche. Puis j'ai fait un long parcours avec et contre Dionysos que j'aimerais partager ici.
Avec la présence de Kaya Anderson et ses ami(e)s, dont trois connaisseurs de Dionysos : Linda Wise, Nor Hall et Joëlle Montech.
Cette conférence est aussi un événement de collecte de fonds offerts à Kaya Anderson : pour son projet en cours, Les Bacchantes, et pour l'aider suite à une chute récente et deux fractures à la cheville, à l'approche de son 90e anniversaire.
Image bientôt soon…
DIONYSOS
Reflections on a Non-Homeric God
Dionysus, like Psyche, appears relatively late in Greek narratives. But then, he makes a colossal entrance in Euripides' The Bacchae in 405 B.C. His absence turned out to be have been mostly class discrimination – of the Homeric kind. He was not an oriental and decadent immigrant: his name appeared already in the cradle of archaic Greece, the Crete of Minos. In 1968 I met Roy Hart as Dionysus. I saw (hallicinated?) his theater in Nietzsche's The Birth of Tragedy. Then I went my way with and sometimes against Dionysus, a long journey which I would like to share with you.
With the presence of Kaya Anderson and her friends, and contributions from three Dionysus connoisseuses : Linda Wise, Nor Hall and Joëlle Montech.
This conference is also a fundraising event offered to Kaya Anderson for her Bacchae Project, in progress, and to help her after a recent fall and two cracks in one ankle, as she approaches her 90th birthday.